Dim Mak (Death Touch) The Ultimate Martial Arts Package
Limited offer - Death Touch Secrets + Applied Street Combat + Lost Secret of Jujitsu
Get the ultimate Martial Arts Package for just $17 - Limited time offer
Dim Mak Point Location, demonstrated on downloadable video. The packages shown below will compliment ANY Martial Art including Mixed Martial Arts. Think back 15 years when UFC started, groundfighting was the thing everyone was learning to get an advantage in MMA.
The next step to get your advantage is the use of nerve points, often known as Dim Mak or Death Touch points. This gives quicker submissions and more devastating knockouts.
---
Death Touch Fighting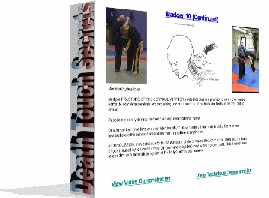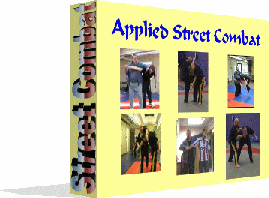 Applied Combat For The Street
Trevor Roberts (8th Dan) & Paul Swift (5th Dan)
Trevor Roberts is a greatly respected Martial Artist, reaching the Grade of 8th Dan in Ju Jitsu.
Trevor has also practised what he preaches, working as a Door Supervisor for 35 years as well as plying his trade as a Bodyguard / Personal Protection Consultant, Debt Collector and Control & Restraint Instructor to 3 Police Forces.
In the words of Trevor - "If it doesn't work on the street, F**K IT OFF!"
This Series of techniques has been put together with those comments in mind.
If you want to learn some flowery Bullsh*t that looks good in the Dojo - Go and buy something else!
However if you want to learn some of the secrets that have kept Trevor alive for the last 35 years....
"Trevor's Style is probably the Ugliest form of Ju Jitsu you will ever see.... AND THE MOST EFFECTIVE!"
- Billy Doakes
Click below NOW! - And Get The Real Deal -
21 Deadly Street Combat Techniques, many of which use Dim Mak points to increase their effectiveness....
And... You can download these directly from this site - Each Technique comes as a 2 - 3 Mb Video Clip....
No waiting around for the mailman to deliver a CD to you in 14 days time.... They'll be on your PC within the next 5 Minutes!
For The Ridiculously Low Price of just.... $17.00
What are you Waiting for ????????? 21 PROVEN Street Combat Techniques, made even more deadly using Dim Mak / Death Touch Points to increase their effectiveness.... Click Below NOW to add these to your Arsenal!
Item number 2 in the ultimate Package:
Death Touch Secrets - Available For A Limited Period Only!
"How To Supercharge Your Martial Art Using The Secrets Of 'Death Touch' .....
"If You've Always Wanted To Learn How To Use Dim Mak Death Touch Points And Add These To Your Fighting Style...... Then This Will Be The Most Valuable Thing You've Ever Read!
Death Touch Secrets De-Mystified, We Have Stripped Away All The Mystical Terminology, Discarded The Complex Points Which Need 5 Set Up Points And 10 Years Practise In Order To Hit Them In Exactly The Correct Direction.....
"Fellow Martial Artist,
"Death Touch Secrets"
Gives You The Edge In Any Situation!
I am, with your permission, going to show you some of the most deadly striking points known to man. But First, A Warning:
The Striking points and methods contained on the video clips and diagrams in the following package are EXTREMELY DANGEROUS and often DEADLY.
They are offered here for educational purposes and must be used in LIFE OR DEATH situations ONLY!
These Death Touch Secretspoints are only taught to my most senior students, Do not play with this knowledge, Do not try these points out on your friends - YOU MAY KILL THEM!
If you are not a serious Martial Artist..... GO AWAY..... Click your 'Back Button' I don't want your business!!!!!!
Dim Mak, or Death Touch uses the acupuncture points to strike an opponent. There are many hundreds of these points all over the body, however many of the points are in inaccessible areas during normal combat, or may require set up points to be struck in a particular sequence in order to get the desired result.
Some even require extreme accuracy or the use of internal energy to cause any more than surface damage to the area.
Only a handful of Death Touch Points require NO Set Up strike, are accessible in a REAL combat situation AND REQUIRE NO PRIOR KNOWLEDGE OF THE INTERNAL ARTS!
Here is what some of our previous customers say about this package.....
"Excellent download , the best Martial Arts package I have ever bought" John C (UK)
"Absolutely sensational stuff. So much stuff for so little money! Thanks!" Andy P (UK)
This is the criteria we set when putting together the 'Death Touch Secrets' package. (Dynamic Video Enabled E-Book Manual)
What will this package do for YOU ?
Shows You Single Strike KO Points!

Makes YOUR Martial Art More Effective!

Shows How To Strike the Dim Mak points!

Explains What Damage will be caused!

Demonstrates What To Strike The Points With, and in what direction!

Detailed Video Clips Show You Techniques in which to incorporate the points!
What Do You Get?.....
Over 20 Dim Mak Death Touch Striking Points that will work for anyone with any level of ability - No Set Up Points Required!

Video Clip Showing EXACTLY how to strike each point

Diagrams showing location of every point

Written Description of every point, including damage caused, location, how to strike, what to strike with

Video Clips of 'Wipeout techniques' many of the Death Touch Points can be used with

Over 30 Video Clips
View Death Touch Secrets Sample
PLUS:
Bonus E Books: - Dim Mak Point Location
How to Use Tai Chi as a fighting art
AND.... All this is fully downloadable... You can have it stored on your PC (Or Mac) in the next 5 minutes and the payment is TOTALLY SECURE using Paypal.
How much is it...... ?
I deliberated over this long and hard. It needed to be inexpensive enough for the Serious Martial Artist to consider it a bargain.
A Senior Instructor colleague of mine recommended I sell it for No Less than $69, so I took his advice... and ignored it... for now. (I thought some of the REAL Martial Artists would miss out at that price)
So for now it will cost you JUST $27
But be warned, if the wrong people are buying it - The price will go up to $69 instantly and if I get any reports of misuse, I will pull it completely - Never to be seen again!
AND for your peace of mind... your payment is TOTALLY secure using PayPal.
The Final Piece of the Ultimate Martial Arts Package
"Discover The Lost Secret of Jujitsu !......
"American Infantry Captain Allan Corstorphin Smith - One of the first 'Westerners' to be awarded a Black Belt in Japan in 1916 reveals the Jujitsu secret of the 'Stahara'
"Captain Smith wrote this series of seven books comprising of over 60 individual lessons during his time as hand to hand combat instructor at The Infantry School, Camp Benning, Georgia 1917-1918..... Revealing the secret the Japanese had guarded for centuries!"
From the desk of: Paul Swift
Wednesday, 9:37 a.m.
Dear Reader,
If you want to finally be let in on the "insider" knowledge that allows you to get the most from your Martial Art.... and... secrets from other martial Arts... then this will be the most exciting and important message you'll ever read!
Here is why:
I am … (with your permission) … going to send you a rather intriguing "Long Lost" package that has been rediscovered titled:
"An old Japanese master, told me once when I was very much discouraged at the progress I was making, that Hyaku ii-yasushi Ichi ii-gatashi. Which, being interpreted, means: The hundred tricks are easy to learn But the one principle is difficult to learn. On asking him to be kind enough to impart this one principle to me, he informed me that that could only be acquired after years of practice. This elusive principle, which the Japanese professors make you search out for yourself, this course imparts from the start by means of Stahara training."
You can see some more extracts from this and some of the BONUS E-Books at the bottom of this page
I'll tell you more about how to get hold of it in just a moment....
But First, here is just a small, very small, sample of some of the Lessons and secrets you'll discover when you download the package:
· An introductory course showing: That the secret of jujitsu is in the Stahara. How to use the Stahara. How to train the Stahara. (22 photos.)
· Defense when a man attacks your throat. After mastering this lesson, the weakest woman will be safe from such an attack. (17 photos.)
· Defense when attacked by knife, club, pistol, kicks, etc. This lesson teaches you quick thinking and gives you presence of mind in an emergency. (44 photos.)
· Taking prisoners, hammerlocks, and a number of tricks whereby the weaker man can get the stronger.
· Three of the secret grips of Japan never yet published in any book, Japanese or otherwise.
And much... much... more!
Look: what you have just read is just a very small sampling of the valuable information that could be yours in the next few minutes. I could go on... but... I won't. Suffice to say: This information is not a luxury. And although it's not a "magic pill" to Martial Arts Wizardry... it is absolutely critical… MUST HAVE information... if... you seriously want to Be the Best You Can Be.
So, how much do you think this kind of info is worth to you?
How much would you pay… if you knew… this information would make you better at what you do ?
A difficult question of course... because... in all truthfulness it is impossible to put a price on such information......
But before I tell you how much I've decided to charge for 'The Lost Secret Of Jujitsu', I want to tell you exactly what you'll be getting… plus… I want to tell you about all the FREE BONUSES you are about to take possession of.... Come on, follow me as I lay it all out for you:
· Dim Mak (Death Touch) point Locations (E-book) - Many Dim Mak points described in detail, including how to strike and with what!
· Knife Throwing Techniques of The Ninja (E-book)- A knife is the first weapon given to a Ninja. He or she learns Tanto-jitsu, knife art. As well as becoming an expert in hand-to-hand combat, a Ninja learns to throw knives, as well as many other objects. But some knives are designed specifically for throwing....
·
The Text Book Of Close Combat (E-book) - The techniques described and illustrated in this text book have been used in general warfare by Western states from the early 1900's onwards. These armies have always used close combat training programs for two main reasons; First, close combat training promotes fighting spirit and ruthless efficiency. Second, close combat training programs are the solid foundations for self confidence on the battle field.
· Hagakure: The Book Of The Samurai (E-book) - Although it stands to reason that a samurai should be mindful of the Way of the Samurai, it would seem that we are all negligent. Consequently, if someone were to ask, "What is the true meaning of the Way of the Samurai?" the person who would be able to answer promptly is rare. This is because it has not been established in one's mind beforehand. From this, one's unmindfulness of the Way can be known.
· How To Use Tai Chi As A Fighting Art (E-book) - It gives me great pleasure to write the foreword for Erle Montaigue's book "HOW TO USE T'AI CHI (as a fighting art)". This book should be of great interest to both t'ai chi practitioners and non-T'ai chi practitioners alike. A book on T'ai Chi as a "fighting art" is long overdue. There are many people who still recognize and consider T'ai Chi as only a health exercise. I feel that this book will be very informative to the martial arts community and a must for everyone's martial arts library. BY DAN INOSANTO
· Secret Guide To Making Ninja Weapons #1, #2, #3 (E-books) - Do it yourself guide to making your own Ninja weapons, including templates and step by step instructions
But Don't take my word for it, this is what our customers say! -
"excellent, loads of books/reading to do as item as described. Cheers++++++" Darren T (UK)
"A lot of good, useful info at a fair price. That's hard to beat!" Victor H (Memphis, U.S.)
Hey, thats Eight free E-books thrown in! PLUS - For this month only you will get an additional Nine Martial Arts MYSTERY E books (Including Aikido & Bruce Lee) Just those FREE MYSTERY BONUSES alone are worth $159.92. And guess what? If you were to buy the whole package separately - It would set you back $359.46
Don't worry. I'm not going to charge you anywhere near that much. But don't get me wrong; it's worth at least that much... and more... when you consider what it's going to do for your Martial Arts Knowledge!
You are just one click …and a few minutes away… from knowing what 99% of Martial Artists don't! Click Here IMMEDIATELY and you will take possession of
P.P.S.
Do it now… it will be the best investment you will EVER make for yourself and your Martial Art!
Get In QUICK And Experience The Raw Adrenaline Rush Of Taking Possession Of "The Lost Jujitsu Secret...." - NOW!<![if !supportNestedAnchors]><![endif]>