Death Touch Secrets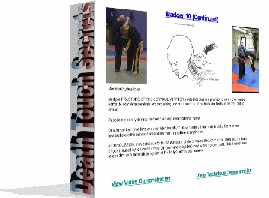 Death Touch Secrets - Available For A Limited Period Only!
"How To Supercharge Your Martial Art Using The Secrets Of 'Death Touch' .....
"If You've Always Wanted To Learn How To Use Dim Mak Death Touch Points And Add These To Your Fighting Style...... Then This Will Be The Most Valuable Thing You've Ever Read!
Death Touch Secrets De-Mystified, We Have Stripped Away All The Mystical Terminology, Discarded The Complex Points Which Need 5 Set Up Points And 10 Years Practise In Order To Hit Them In Exactly The Correct Direction.....
"Fellow Martial Artist,
"Death Touch Secrets"
Gives You The Edge In Any Situation!
                              I am, with your permission, going to show you some of the most deadly striking points known to man. But First, A Warning:
The Striking points and methods contained on the video clips and diagrams in the following package are EXTREMELY DANGEROUS and often DEADLY.
They are offered here for educational purposes and must be used in LIFE OR DEATH situations ONLY!
These Death Touch Secretspoints are only taught to my most senior students, Do not play with this knowledge, Do not try these points out on your friends - YOU MAY KILL THEM!
If you are not a serious Martial Artist..... GO AWAY..... Click your 'Back Button' I don't want your business!!!!!!
Dim Mak, or Death Touch uses the acupuncture points to strike an opponent. There are many hundreds of these points all over the body, however many of the points are in inaccessible areas during normal combat, or may require set up points to be struck in a particular sequence in order to get the desired result.
Some even require extreme accuracy or the use of internal energy to cause any more than surface damage to the area.
Only a handful of Death Touch Points require NO Set Up strike, are accessible in a REAL combat situation AND REQUIRE NO PRIOR KNOWLEDGE OF THE INTERNAL ARTS!
Here is what some of our previous customers say about this package.....
"Excellent download , the best Martial Arts package I have ever bought"  John C (UK)
"Absolutely sensational stuff. So much stuff for so little money! Thanks!" Andy P (UK)
This is the criteria we set when putting together the 'Death Touch Secrets' package. (Dynamic Video Enabled E-Book Manual)
What will this package do for YOU ?
Shows You Single Strike KO Points!

Makes YOUR Martial Art More Effective!

Shows How To Strike the Dim Mak points!

Explains What Damage will be caused!

Demonstrates What To Strike The Points With, and in what direction!

Detailed Video Clips Show You Techniques in which to incorporate the points!
What Do You Get?.....
Over 20 Dim Mak Death Touch Striking Points that will work for anyone with any level of ability - No Set Up Points Required!

Video Clip Showing EXACTLY how to strike each point

Diagrams showing location of every point

Written Description of every point, including damage caused, location, how to strike, what to strike with

Video Clips of 'Wipeout techniques' many of the Death Touch Points can be used with

Over 60 Video Clips
View Death Touch Secrets Sample
PLUS:
Bonus E Books: - Dim Mak Point Location
                            How to Use Tai Chi as a fighting art
AND.... All this is fully downloadable... You can have it stored on your PC (Or Mac) in the next 5 minutes and the payment is TOTALLY SECURE using Paypal.
How much is it...... ?
I deliberated over this long and hard. It needed to be inexpensive enough for the Serious Martial Artist to consider it a bargain.
A Senior Instructor colleague of mine recommended I sell it for No Less than $69, so I took his advice... and ignored it... for now. (I thought some of the REAL Martial Artists would miss out at that price)
So for now it will cost you JUST $27
But be warned, if the wrong people are buying it - The price will go up to $69 instantly and if I get any reports of misuse, I will pull it completely - Never to be seen again!
To get your hands on this package and be taken directly to the encrypted download area, simply click the link below NOW!
Buy 'Death Touch Secrets' NOW!
for
JUST $27
p.s. Remember - this package could increase in price at ANY time
p.p.s. Also Remember - This package could disappear at ANY time!
Yes Please, I AM a Real Martial Artist and want to 'Supercharge' my Martial Art using 'Death Touch Secrets' - Take me to the download page !

Q. What happens if I'm not completely satisfied with Death Touch Secrets?
A. You are covered by our 100%, 60 day money back guarantee! If for ANY reason you are not totally happy with the product, we will refund all your money! No questions asked!
Q. Is my payment secure?
A. Your payment is totally secure, we never see any of your details. The payment is processed by the biggest and most secure payment processor on the net - Paypal
Q. Do I need a Paypal account to pay for the product?
A. No. Paypal will process Credit or Debit cards at no charge to you! But if you do have a Paypal account you can also use that to pay.
Q. What if there is something I don't understand or if I have problems downloading or I don't know how to download?
A. Simply send us an email or give us a call and we will answer ANY questions you may have!
Q. I practice a specific 'Style' of Martial Art and don't want to move away from this
A. These points can be used with ALL styles of Martial Art, from Aikido to Groundfighting to Karate to Escrima. They blend effortlessly and seamlessly into the style making it even more effective and Devastating!
Don't miss out on your copy of Death Touch Secrets