Martial Art Videos, clips & DVD's
Martial Art Videos and Martial Art Video Clips
"How To Improve Your Martial Arts Skills - Whatever Style You Practice"
"Take What Is Useful, Discard What Is Useless" - Bruce Lee
At the foot of the page there are some video clips of different techniques performed by Paul Swift and Trevor Roberts, Do with them as Bruce Lee suggests.
You may ask why we have put some ad's from our competition here.... There is only ONE Trevor Roberts ! Check out the competition and I'll see you back here in a few minutes !
---
Publish Your Martial Arts Videos Right Here?
Get your Martial Arts Videos published here on this site. Let the world know what you've got going on !
What Other Visitors Have submitted
Click below to see events from other visitors to this page...

Martial Art Video clip - Spinning Backfist
Martial Art Videos - Spinning back kick
Martial Art Video clip - Springing side kick
Martial Art Video clip - Sweep
Martial Art Video clip - Tech 1
Martial Art Video clip - Tech 7
Martial Art Videos - Applied Combat For The Street
Trevor Roberts & Paul Swift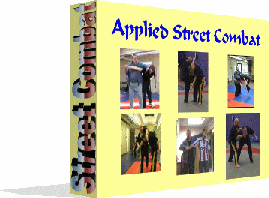 Trevor Roberts is a greatly respected Martial Artist, reaching the Grade of 8th Dan in Ju Jitsu.
Trevor has also practised what he preaches, working as a Door Supervisor for 35 years as well as plying his trade as a Bodyguard / Personal Protection Consultant, Debt Collector and Control & Restraint Instructor to 3 Police Forces.
In the words of Trevor - "If it doesn't work on the street, F**K IT OFF!"
This Series of Martial Art Video Clips & techniques has been put together with those comments in mind.
If you want to learn some flowery Bullsh*t that looks good in the Dojo - Go and buy something else!
However if you want to learn some of the secrets that have kept Trevor alive for the last 35 years....
"Trevor's Style is probably the Ugliest form of Ju Jitsu you will ever see.... AND THE MOST EFFECTIVE!"
- Billy Doakes
Click below NOW! - And Get The Real Deal -
21 Deadly Street Combat Techniques, many of which use Pressure points to increase their effectiveness....
BUT - Don't take my word for it, Here's what Russell Wilkes of www.martialartsadvice.com says in his review of this product -
"There are a lot of useful gems here, including notes on basic Pressure Points within common sense escapes and counters, often from 'worse-case scenarios'"
Read the FULL review of this product at: Martial Art Videos - www.martialartsadvice.com
And Here is Trevor giving you a description of what you are about to get!
View Trevor's Overview

And... You can download these directly from this site - Each Technique comes as a 2 - 3 Mb Martial Art Video Clip....
No waiting around for the mailman to deliver a CD to you in 14 days time.... They'll be on your PC within the next 5 Minutes!
For The Ridiculously Low Price of just.... $14.97
What are you Waiting for ????????? 21 PROVEN Street Combat Techniques, made even more deadly using Pressure Points to increase their effectiveness.... Click Below NOW to add these to your Arsenal!
AND for your peace of mind... your payment is TOTALLY secure using PayPal.
*** AND if you aren't totally satisfied, you are covered by our 100% Ironclad 60 day money back guarantee! ***
Below are a couple of sample techniques from the 21 you will get...... But they are of a much higher quality than these demo's

Q. What happens if I'm not completely satisfied with the product?
A. You are covered by our 100%, 60 day money back guarantee! If for ANY reason you are not totally happy with the product, we will refund all your money! No questions asked!
Q. Is my payment secure?
A. Your payment is totally secure, we never see any of your details. The payment is processed by the biggest and most secure payment processor on the net - Paypal
Q. Do I need a Paypal account to pay for the product?
A. No. Paypal will process Credit or Debit cards at no charge to you! But if you do have a Paypal account you can also use that to pay.
Q. What if there is something I don't understand or if I have problems downloading or I don't know how to download?
A. Simply send us an email or give us a call and we will answer ANY questions you may have!
Q. I practice a specific 'Style' of Martial Art and don't want to move away from this
A. All Techniques used will fit in most styles without major alteration. These techniques are meant for use in 'Real' situations, when style usually flies out of the window anyway!
---
To add to your Ju Jitsu Knowledge with some long forgotten about secrets, check out this recently discovered E Book that the Japanese tried to ban!.....

See Ju Jitsu Secret...!
You may be ugly! But you can still learn how to fight effectively - with these Martial Art Videos
If you're still dithering like a rabbit caught in the headlights, Go take a look at the offerings from our competition. I'll see you back here in a few minutes ! (If you've got any brains !)