Applied Conflict Management Training
At Applied we deliver conflict management training to all sectors of industry who may face conflict, threats, or who are simply on the front line dealing with the public on a day to day basis.
Amongst others, we deliver this training to probably the most demanding industry in the country - Door Supervisors.
These are the people who keep the town centres safe for the decent, law abiding people to go out and enjoy themselves.
They are the front line who face up to and deal with violence and aggression as part of their weekly work.
It is because of the nature of the work they do, that what we teach them HAS to work.
We aren't just talking about the physical side of things, as that plays a minor role.
The most important part of any conflict management training is the ability to communicate effectively, in order to diffuse any situation BEFORE it escalates into a physical confrontation.
That said, we must also prepare for the worst case scenario. Should the aggressor be under certain influences which render him impervious to reason and this leads to an escalation to a physical threat, we must be prepared to deal with this for the sake of ourselves, the aggressor and the public at large (Including other members of staff).
Below is a sample of slides from our conflict management training course.
These are taken from the first day of a three day course and cover all aspects of avoiding ANY escalation to a potentially dangerous situation.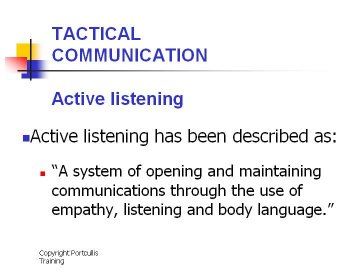 Active listening, with the emphasis on "ACTIVE" provides the cornerstone for the conflict management training.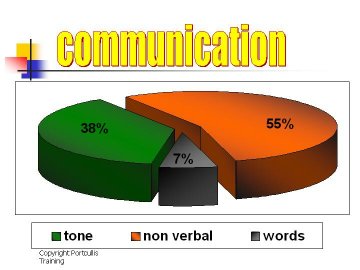 The words we speak make up only 7% of the actual communication.
The way we manage our customers expectations using non verbal communication becomes vitally important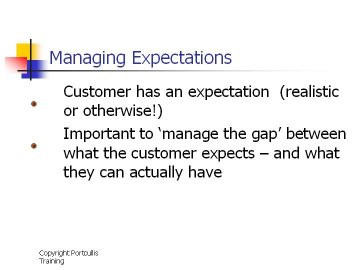 Attitudes and behaviours are key to avoiding potentially volatile situations.
Using the 4 A's approach we can manage our own emotions.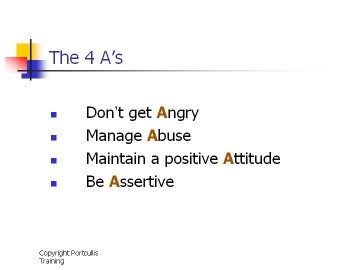 We must however be able to recognise when a customer has moved over from a "Rational" to an "Irrational" state and the situation is about to escalate.
Putting theory into practice
Below we see some examples of our interactive conflict management training course being put into practice on some attendee's from a recent Door Supervisor's course.
Here we see one of the delegates demonstrating the "Open palms" approach, signalling non aggression and "Active listening" skills.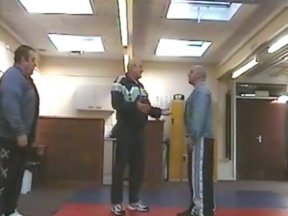 After being violently prodded, the delegate de - escalates the situation.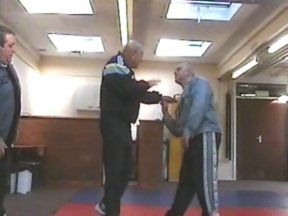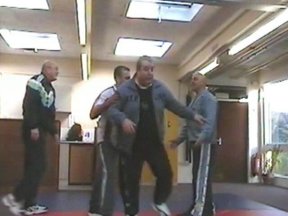 If a member of staff is clearly inflaming the situation, the best option is a change of personnel.
Here an attacker grabs and tries to punch. Paul Swift has to use physical skills to avoid being injured and control the situation.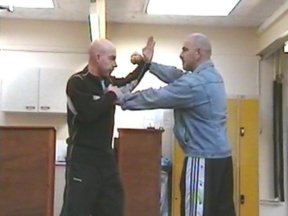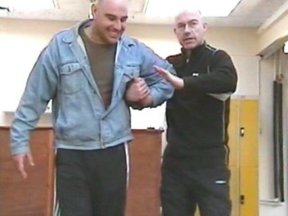 The aggressor is controlled by Paul and taken to a place of safety.
Trevor Roberts demonstrates here a release from a grab by an irate customer.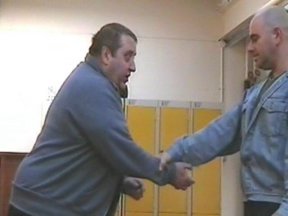 A violent aggressor is controlled by three members of staff to ensure the safety of all involved.
This approach ensures the minimum force necessary is used to minimise any risk of injury and diffuse the situation in a controlled manner.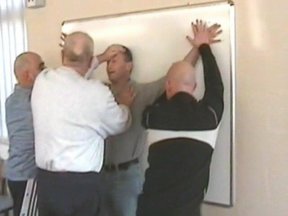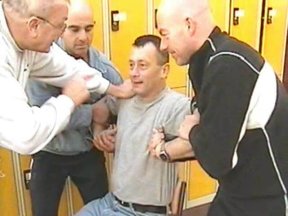 Instructor Profile
At Applied training we have two very experienced instructors who deliver our conflict management training courses.
Here is a profile of both:
Trevor Roberts
35 years in the Security Industry, including 22 years VIP Protection (Bodyguard) - As an Operative and Controller
Organised Bodyguard Teams Logistics and Programmes nationally and internationally
Fulfilled contracts in the UK. Holland, France, Italy & Switzerland
EKGB Coaching Award (Level 3)
EKGB Assessor Award (Level 4)
Used as Consultant in Close Quarter Physical Intervention by No.1 Area Northwest Police Forces - GMP, Lancashire County & North Yorkshire
Internationally recognised expert in Self-defence and Personal Safety
Started training in Judo
Started training in Freestyle Wrestling Started training in Ju Jitsu
Started training in Sambo
Gained first Dan Ju Jitsu
1959 1965 1968 1985 1971
3 x Lancashire Champion Olympic Freestyle Wrestling
3 x N/Counties Champion Olympic Freestyle Wrestling
2 x British Champion Olympic Freestyle Wrestling
4 x British Champion Jujitsu
1 x European Champion Ju Jitsu
Many Open Ju Jitsu titles in UK and Europe
1 x British Champion Sambo(Russian Wrestling)
Silver medal World Masters Championships 1992
Founder ofTetsu No Otokb Ryu Ju Jitsu
Chief Instructor Applied Ju Jitsu Institute incorporating Modem Tech and Conflict management training Solutions
Samho Coach (Forma TJK)
Present Grade
8th Dan Ju-Jitsu
6th Dan Shiai Jitsu (Contest) Master of Sport (Russian Sambo)
Consultant to:
British Judo Association (Annual National Self-defence Course) British Combat Association
Forma UK
Goshin Ryu UK
European Fighting Systems
Promoted to Professor of Ju Jitsu International Budo Federation International Congress Allmera Holland 1992
Sambo Coach of the Year 2000 Forma UK
Trained over 100 students to Black Belt level and above up to 6th Dan
Trainer of over 30 British Champions
Paul Swift
Profile
A highly experienced coach who has held national coaching awards since 1990. Experienced in the coaching of practical and theory based subjects including Martial Arts, self defence, Control & Restraint and conflict management training.
Coaching History
· Personally responsible for the training of over 500 Airbus Employees and Management in Lean Principles
· Martial Arts coaching award 1985
· Qualified as Conflict Management Instructor Feb 99
· Qualified as Control & Restraint Instructor Feb 99
· NVQ Level 4 EKGB Coaching Assessor Award
· NVQ Level 3 EKGB Coaching Award
· First Aid Qualification Sport
· 5th Dan Black belt – Karate Jitsu, 3rd Dan Black belt - Ju jitsu, 1st Dan - Freestyle Karate
· Former NDBK National Lightweight Champion
· Run Regular courses in Conflict Management and Self Defence
· Head Coach at two successful Martial Arts clubs with membership of over 70 students
Conflict management training courses
Applied conflict management training courses run over 12 hours (Normally spanning two days) and will be delivered at your premises.
All participants should wear leisure attire as some physical activity will be undertaken.
The cost of the Conflict management 12 hour training course is as follows:
£160 per delegate + expenses
Min 6 delegates per course
Max 20 delegates per course
For details of availability in your area please fill in the form below detailing your requirements.