Applied Combat Academy - Bolton / Lowton
This class has now moved to Hindley Leisure Centre on Thursday evenings. Please contact Mark Price on 01942 731356 for details.
Karate - Jitsu, giving you the most effective aspects from Karate, Ju Jutsu, Thai Boxing, Boxing, JKD and many more.
"Could You Protect Yourself & Your Family If You Were Attacked?"
'If You Always Meant To Learn Self Defence/Martial Arts, But Can't Find The Time – Then This Is The Answer…
We Come To You!
Personal/Group Tuition Enrolling NOW!
Tel. Paul Swift: 07843 577771 5th Dan, EKGB Coach/Assessor
Or E-mail
Paul@make-your-martial-art-grow.com
<![if !mso]><![endif]>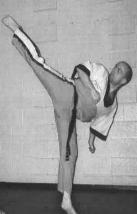 Our Head Coach, Renshi Paul Swift 5th Dan has studied Martial Arts for over 20 years gaining his first Black Belt grade at the age of 18 under the guidance of Master H.E. Conroy in the Tiger Claw System of Kung Fu (Fu Jow Pai). After the retirement of Master Conroy Renshi Swift studied with many of the great Masters to further his own Martial Arts skills. These include:
Professor Trevor Roberts (8th Dan Ju Jitsu)
Soke Inoue (9th Dan Karate)
Soke Tanaka (9th Dan Karate)
Shihan Yamanaka (8th Dan Karate)
Ronnie Green (5 times Muay Thai World Champion)
Sensei D. Grundy (Jeet Kune Do & Brazilian Ju Jitsu)
Below are video clips of some of the things you will learn...
Spinning Back Kick

Spinning Back Fist

Punch Defence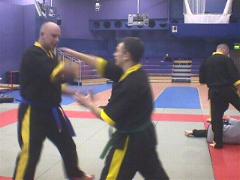 It is from the culmination of many years of diverse Martial Arts study with the various Masters listed above that the Tiger Claw Karate Jitsu style was born. It is a very Non Rigid style which has evolved over the years and which will continue to evolve over the coming years. We believe that simplicity is genius and that nothing is ever too good to be improved.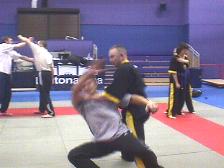 From having the honour of training with these great Martial Artists, Renshi Swift holds the following grades:
5th Dan Karate Jitsu,
3rd Dan Ju Jitsu,
1st Dan Freestyle Karate,
1st Degree Tiger Claw Kung Fu.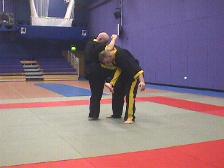 Our Classes are held at The Broadmead Centre,
Golborne Rd,
Lowton Nr Leigh
(Opposite the Hare & Hounds Pub)
Thursday 7:00-8:00 Junior class
Thursday 8:00-9.30 Adults class
Other Classes are held at:
Bolton Arena,
Horwich,
Bolton.
Monday 7.30pm - 8.30pm (Juniors & Adults)
Adult Instructor at Bolton - Professor Trevor Roberts 8th Dan
For details of any of these classes please contact Paul Swift on:
Tel. 01942 514010 or 07843 577771 or Complete the Training Enquiry Form below....